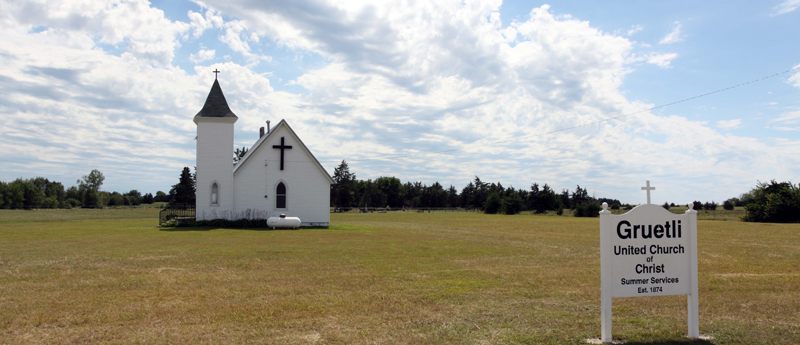 Gruetli Reformed Parish (pronounced "GREET-lee") had its beginning in 1869 as the first German church in Platte County. The membership began with 30 families of predominantly Swiss origin. Worship services were held in member homes until the District 37 schoolhouse was built; worship was held from then on in the schoolhouse. The first record of a pastor indicates that both Gruetli and the church in Columbus (the eventual St. Luke's) shared the services of Reverend Abraham Schneck from 1874-1876. Gruetli continued sharing pastors with Columbus until 1889, when the Reverend J. B. Braun began serving Gruetli alone; he was housed in a parsonage two miles east of the church site. The only other resident pastor (serving only Gruetli) was the Reverend C. William Deglow, who served from 1923-1940. At all other times in the life of the Gruetli parish the pastor served both Gruetli and Columbus (St. Luke's).
The current building, pictured on this page, was built in 1917 upon nine acres of land donated by John Eisenmann. The church gladly maintains "our little country church" in honor of the covenant made in 1975 merging the Gruetli and St. Luke's congregations. Worship services are regularly held at Gruetli on Sunday mornings at 8:00am from Memorial Day weekend through Labor Day weekend every year. In addition, an 10:00pm service is held there every Christmas Eve, and a 7:00am service is held on Easter morning. The congregation occasionally meets at Gruetli for other events such as church picnics and Vacation Bible School
A Sunday morning service at Gruetli is not something to be missed. The wooden floor and plastered walls allow music to bounce about the room, making even the smallest of gatherings sound like a large chorus. The opened windows allow the summer breeze to blow through the sanctuary, always accompanied by the nearby singing of meadowlarks and other songbirds. It is hard to escape the conviction that God is still speaking in such a setting!