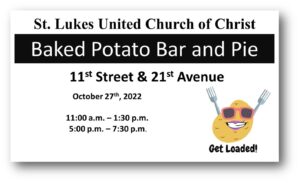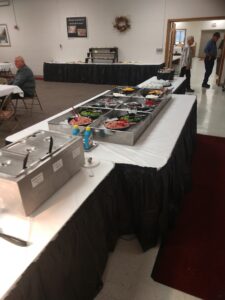 What is a Baked Potato Bar?
A Baked Potato Bar is essentially a Baked Potato, with a variety of toppings to choose from. All the trimmings can be added to the Baked Potato to make it into a complete meal. For those who are young at heart or who have a smaller appetite we will also have French Fries on the menu.
What toppings will you have?
While the toppings are subject to change depending on availability at the time of the event, we currently plan to have: Hamburger, Taco Meat, Nacho Cheese, Ham, Bacon, Butter, Sour Cream, Cheddar Cheese, Onions, Salsa, Chives, Broccoli, and Olives.
What about the Pie?
Guests will select their favorite pie from the pie table. We will continue to have both cream and fruit pies. (Pie list to come.)

What about Beverages?
We will have Coffee and Water for our guests to select from.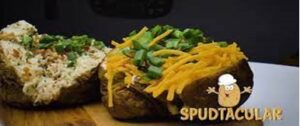 Cost?
$10 a person for a trip through the Potato Bar and for a slice of Pie. If someone only wants one or the other it will be $7.50 for a trip through the Potato Bar only or $3.50 for a slice of Pie.
Drink included!
Will there be a "To-Go" option?
Yes, "To-Go" will be available.