St. Luke's United Church of Christ
(1 Block East of Glur's Tavern)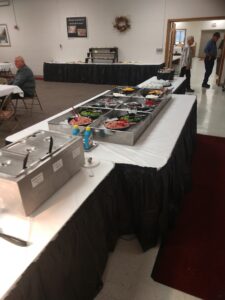 What is a Baked Potato Bar?
A baked potato with a variety of toppings is what we call a "Baked Potato Bar." When loaded up with condiments, a baked potato can replace a full meal. For those with smaller appetites or a different craving, tacos or taco salad will also be available.
What toppings will you have?
Bean-less Chili, Taco Meat, Nacho Cheese, Ham, Bacon, Lettuce, Butter, Sour Cream, Cheddar Cheese,Mixed Cheese, Onions, Salsa, Chives, Broccoli, Olives, Mini Pepperoni, Shoestring Potatoes, Ranch, and Dorothy Lynch Dressing are just some of the toppings we plan to have at the event, though this may change depending on the supply chain as we get closer to the event.
What about the Pie?
Traditional cream pies such Coconut Cream, Sour Cream Raisin, and Lemon Cream, as well as local favorites like Apple, Cherry, Peach, and Pumpkin pies, will be among the many sweets available at the dessert bar.
What about Beverages?
Water and Coffee are complimentary.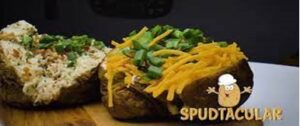 Cost?
A visit to the Potato Bar presents you with many options:
A: Baked Potato and all the fixings
B: Two tacos and all the fixings.
C: A build your taco salad bowl.
and a trip to the dessert bar is $10.00 a person, drink included!
A la Carte
$7.50 for a trip through the Potato Bar/Taco Bar
$3.50 for dessert from the dessert bar.
Drink included!
Will there be a "To-Go" option?
Yes, "To-Go" will be available.